Whether you're a new parent or you've had a few kids already, you're probably interested in having the best nursery possible for your baby. One of the ways you can do this is by creating a safer and healthier space for them to grow and thrive in. There are many options, and we've listed a few of our favorite ways to do this with some great items. Here are seven items you need to consider for your baby's nursery. 
1. Thermometer
There are so many types of thermometers on the market. There are ones for mouths, ears, foreheads and even some that you can simply point at your baby's forehead to get a temperature reading. They all vary in price, reliability and quality. So, it's important to shop around for a thermometer before having your baby. Otherwise, you might end up panic-buying whatever you can when the baby has a late-night fever. Not all thermometers are created equal, but a good one is worth its weight in gold when you have a sick little one.
It's always best to be prepared with a thermometer so that when the baby gets their first bug, you're ready. Also, for very young babies, their temperature is an important indicator that they need to see a doctor. Most pediatricians will tell you that if the baby gets to a certain temperature, you need to bring them right in. So, having a thermometer is critical. Parents.com did a wonderful blog about different thermometers and which ones are of the best quality, in case you're shopping.
2. Baby Humidifier
Another favorite item to have on hand for drier months of the year as well as for unexpected colds/flu bugs is a baby humidifier. Most pediatricians will tell you that any baby or kiddo who gets a respiratory bug would benefit from a humidifier. Unfortunately, kids always seem to start getting sick after the doctor's office or most drug stores have closed and you're left with few options. If you have a humidifier on hand, though, your little one will be able to get a better night's sleep than without it. This will help you get to the next day when you can talk to the doctor. You'll also want to continue to run the humidifier for the duration of your child's illness for their comfort.
3. Wearable Baby Blankets
You've probably heard the warnings many times about how babies should not sleep with blankets, pillows or stuffed animals. However, if it's winter, you live in a cooler climate or you simply want to make sure your baby is kept warm, a wearable baby blanket is a great option. A wearable baby blanket is almost like a little sleeping bag that has holes in it for your baby's head and arms. The wearable blankets zip up in the front so the baby can't get tangled up. This will keep them warmer and happier, and might even give you both a little more shuteye.
4. Playmat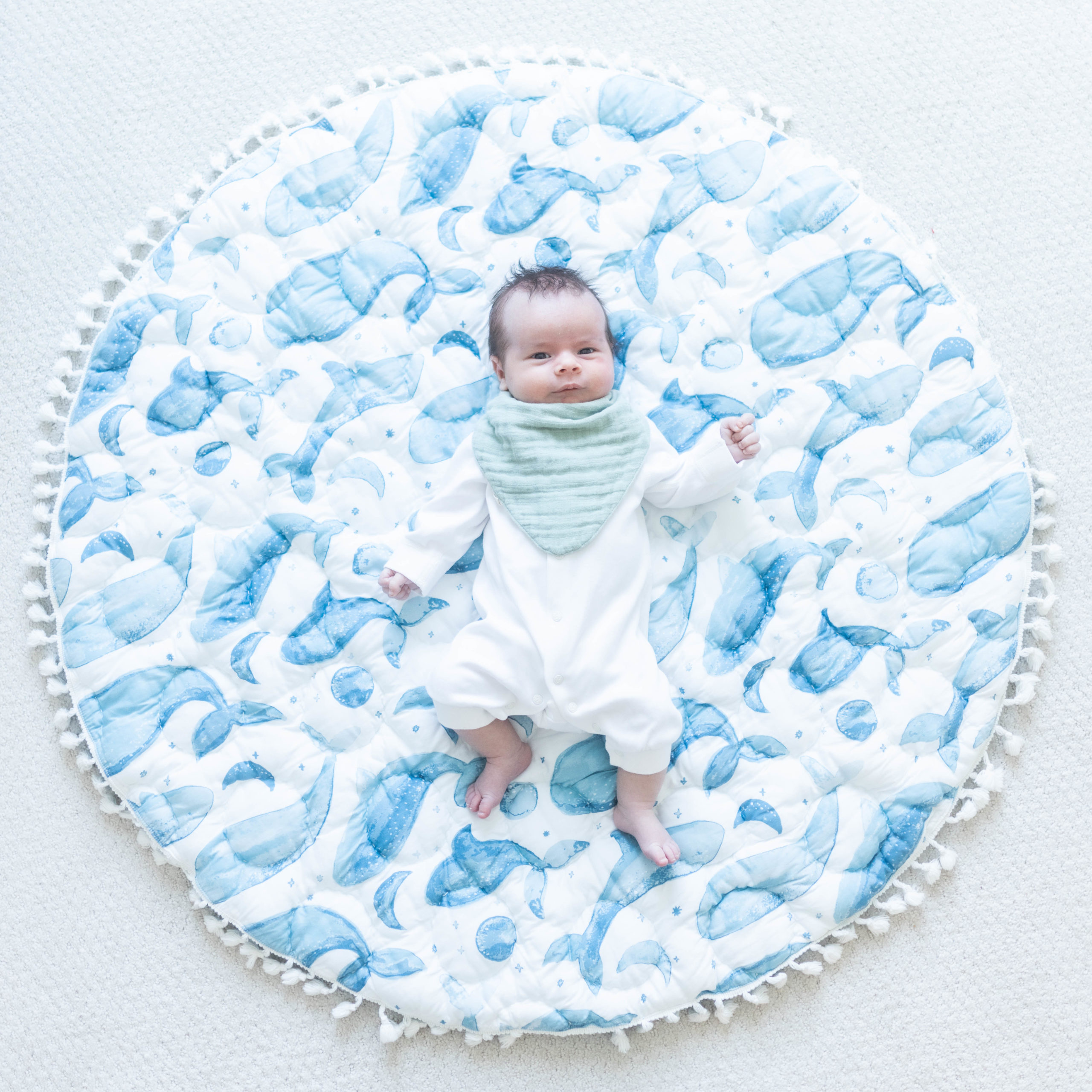 Whether you have a toddler or a newborn, a playmat is a baby essential. It's a great spot that will be both clean and comfortable for your baby to do tummy time. If they're a little older, the playmat can be a great place to spread out toys for a little one to explore. The best thing about a playmat is that it can be washed. So, it's a much cleaner and safer place for your baby to play than directly on the floor where people wear dirty shoes and walk around. 
5. Air Purifier
An air purifier for the nursery is a great addition! There are viruses and particles floating around in our air that we unknowingly breathe in every day. For a baby with a new immune system and fragile developing body, it can be very helpful to include an air purifier in their room. Many of these purifiers include additional features such as night lights, extra quiet sounds and more. So, it can purify the air and help create a more gentle, calming ambiance.
6. Plug Covers
If you're curious about how to baby-proof your little one's nursery, plug covers are a great place to start. Making sure that each and every outlet in your nursery as well as around your house have outlet covers is very important for safety. The Childproofingexperts.com website says "Since children can suffer serious shock and burn injuries if they insert objects into outlets, selecting the best type of outlet cover is important. Also, outlets are usually low to the ground and easily accessible to children."
So, take a look at the many options out there. There are ones as simple as a plastic piece that goes into each outlet, and there are covers for power strips, cord shorteners and so much more. Being mindful of the outlets in your baby's room and covering them in a safe manner is critical to their safety.
7. Wall Anchored Furniture
This might not be something you have on your baby checklist for the nursery. However, wall anchors are very, very important. While a newborn baby won't be crawling around and exploring for a while, as your baby grows, they will become mobile and more curious. TheBump.com talked a bit about preventing injuries from furniture tipping. "Experts deem these accidents 100 percent preventable. Wall anchors can be purchased at any hardware store, and are essential for making sure tall pieces of furniture stay upright against a wall. Robinson, Consumer Product Safety Commissioner, reminds parents to also secure TVs with a strap, or better yet, mount a flatscreen on the wall."
Wall anchors come in a wide variety of designs, and though you might be thinking you don't need them, you probably should get them. It's always better to be safe than sorry when it comes to your baby's safety. 
There are so many things on the market that are aimed at making your baby's nursery a safe and healthier place. However, we believe that these seven items are some of the best baby must haves to spend your money on for your baby's nursery. While you may not deem all of these items necessary in your situation, they really can help to keep you and your baby more prepared and comfortable.